Welcome to
5R - The Munchkins
Miss Rawnsley, Miss Berry and Miss Roberts
Welcome to 5R!
In 5R we endeavor to engage with the Year 5 curriculum whilst encouraging resilience, self-management, reflection, resourcefulness and independence to allow us to underpin the school values which we abide by daily;
ENJOY, RESPECT, SUCCEED.
Reading
Children will have a reading book chosen by themselves appropriate to their reading level. Accompanying these books are their reading diaries, where you can write comments on their reading daily. Your child will also be given many opportunities throughout the week to read a variety of texts and will then undertake an online quiz to assess their understanding of the text.
PPA Time
On Wednesday's, Miss Holt will be in class teaching.
Homework
In Year 5, children are expected to complete two pieces of homework a week. At the beginning of the year we will begin with spellings until your child has been provided with the CGP English and maths books. Each week, they will be provided with different page numbers in order to complete different tasks, these will also be uploaded to 5R's Class Dojo p
age.
Spellings and Times Tables
Every week, children will have a spelling and time table test on Friday morning. These will be provided for the children the previous Friday and practiced in school during the week.
PE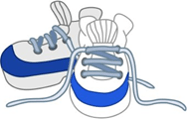 PE will take place every …
Tuesday and Wednesday afternoons.
Please make sure children have the correct PE kit ready for each week.
SNACK
Children are provided with a piece of fruit every day in KS2. Instead, you may wish to send them with a healthy snack. We also encourage your child to bring a bottle of water to drink in class throughout the day.
This term, we are going to be reading 'The Lion, The Witch and The Wardrobe'. A book written by C.S. Lewis.
5R Termly Newsletters


2023-2034
Our curriculum
WW1 - Our theme work for this half term will be all about World War One! We will explore this through a range of exciting activities in different subjects.
Design and Technology – We will research various WW1 artists, such as John Nash, and recreate some famous pieces of WW1 artwork.
History - We will be able to understand and explain the key points of WW1. As Historians, children will examine different artefacts and think chronologically about the significant events which occurred during this time period and compare them to modern day.
Geography- Our focus will be on the British Isles. The children will learn about the countries and capital cities in the Isles by using online resources as well as atlases.
Science - We will explore different properties of materials and further understand how materials can change through heating cooling. The children will also engage in investigations by concluding experiments in order to see how different materials can be separated.
PSHE- This topic, me and my relationships, includes discussions on families and friendships, and safe relationships.
RE – The children will be learning about Christianity and God.
PE - This half term, the children will be developing their gymnastic and netball skills.
Year 5 and 6 Spellings - Common Exception Words