Safeguarding & Keeping Children Safe in Education
Safeguarding Team
At Cherry Fold Community Primary School we are committed to safeguarding and promoting the welfare of children and young people. There are so many different elements and people involved in safeguarding children, from parents to school staff, to external agencies and of course children at the very centre.
We are an operation Encompass school. https://www.operationencompass.org/
We actively support the Governments' Prevent Agenda to counter radicalism and extremism.
Designated Safeguarding Lead (DSL)
Mrs C Moretta (Headteacher)
Back up DSL's:
Miss J Heys (Pupil and Family Support Manager)
Mrs H Smith (Deputy Headteacher)
Miss S Bowery (SENCO)
Miss C Birtill (Attendance Manager)
Safeguarding Governor
John Thompson (Chair of Governors)
The Designated Teachers for Looked After Children (CLA/LAC) and Pupil Premium Champion are Chloe Moretta & Helen Smith
CAF/TAF Lead is Miss J Heys
EY Supervision Lead is Miss S Bowery
Harmful Sexual Behaviour and Child on Child Abuse Lead is Mrs C Moretta
Online Safety Lead is Mrs Helen Smith
Safeguarding Children with SEND Lead is Mrs Sarah Bowery
Safer Recruitment Lead is Mrs C Moretta
Prevent Lead is Miss R Hann / Mrs C Moretta
Concerned about a child?
A referral can be made by anyone, including members of the public if they have concerns regarding the safety of a child. Within the school, a referral will be made by one of the Designated Safeguarding Leads. If you have any concerns regarding the wellbeing of a child, please call Lancashire Children's Social Care - you can do this anonymously if you wish. Please see details below.
Call 0300 123 6720 or out of hours 0300 123 6722.
If you think a child is in immediate danger – don't delay call the police - 999
www.lancashire.gov.uk/children-education-families/keeping-children-safe/tell-us-if-you-are-worried-about-a-child/
Operation Encompass
We are an operation Encompass school, for more information visit: https://www.operationencompass.org/
As part of our commitment to keeping children safe, Cherry Fold Community Primary School is part of Operation Encompass - a unique Police and education early intervention safeguarding partnership, which supports children and young people who are exposed to domestic abuse.
Being part of Encompass means our school will receive a notification from Lancashire Constabulary before the start of the next school day when the police have attended an incident where a child or young person has been involved in, or exposed to, a domestic abuse. The information, is received by key school staff, in confidence, to enable us to provide the best possible support for the child involved. These Key Staff being our Designated Safeguarding Lead: Mrs Moretta, and Deputy Designated Safeguarding Leads, Miss Birtill, Miss Bowery, Miss Heys & Mrs Smith.
If you have any questions or wish to know more about our involvement in Operation Encompass, please do not hesitate to contact Mrs Moretta (Headteacher) via the school office.
PREVENT
We actively support the Governments' Prevent Agenda to counter radicalism and extremism.
Lancashire County Council Prevent Reporting Website https://www.lancashire.gov.uk/council/strategies-policies-plans/report-radicalisation-prevent/
Our policies and procedures contribute to our safeguarding commitment including our child protection and safeguarding policy which can be viewed below.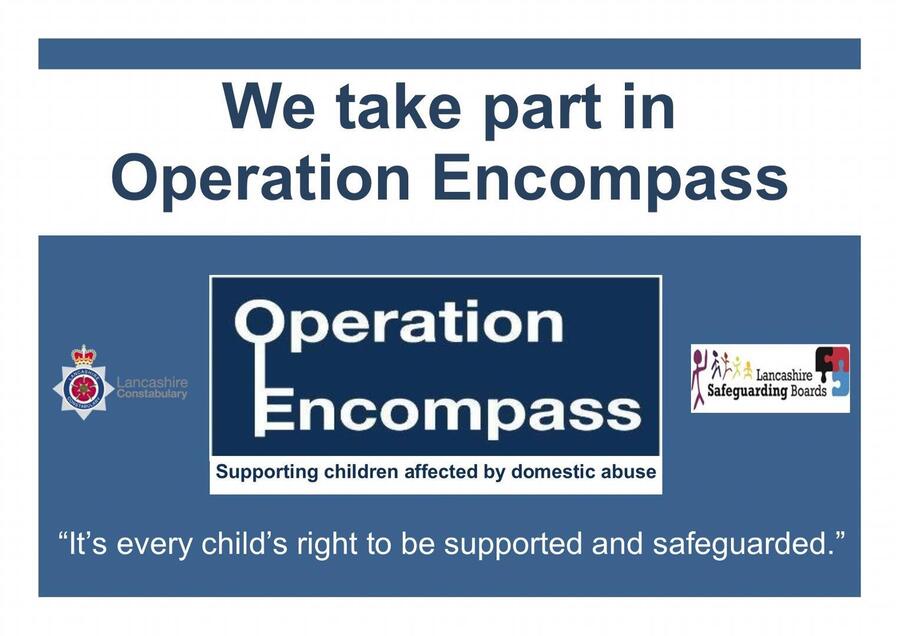 Our Early Help Offer
Child on Child Sexual abuse and/or harassment
This helpline provides both children and adults who are potential victims of sexual abuse in schools with the appropriate support and advice. This includes how to contact the police and report crimes if they wish. The helpline also provides support to parents and professionals. See our safeguarding policy for our procedures.
Child on Child sexual abuse and harassment is not acceptable and not tolerated. Sexual harassment refers to unwanted conduct of a sexual nature that occurs online or offline. Sexual harassment violates a pupil's dignity and makes them feel intimidated, degraded or humiliated, and can create a hostile, sexualised or offensive environment. If left unchallenged, sexual harassment can create an atmosphere that normalises inappropriate behaviour and may lead to sexual violence.
Sexual harassment could include:
Sexual comments.
Sexual "jokes" and taunting.
Physical behaviour, such as deliberately brushing against another pupil
Online sexual harassment, including non-consensual sharing of images and videos and consensual sharing of sexual images and videos (often known as sexting), inappropriate comments on social media, exploitation, coercion and threats