Cherry Fold School Swimming
At Cherry Fold, we believe it is vital that all children take part in swimming education. Previously, children in Year 3 had swimming lessons for the full academic year. Unfortunately, we found that by this age some of our children had developed a fear of water and were not meeting the expected end of Key stage 2 requirements. Children from Nursery to Year 6 will each access taught swimming sessions for one half term each. Each Year group will access the swimming sessions to boost their attainment and meet the age related expectations for the end of Key Stage 2.
In addition to this, we actively encourage parents/carers to access the free swimming provision through Burnley Borough Council at the St Peters Leisure Centre and Padiham Leisure Centre. This can help many children gain confidence and swimming skills.
Swimming Data
The data below is based on the children's current attainment. Each year the children will have additional lessons which will include interventions and boosters, where appropriate, to ensure all children meet age related expectations.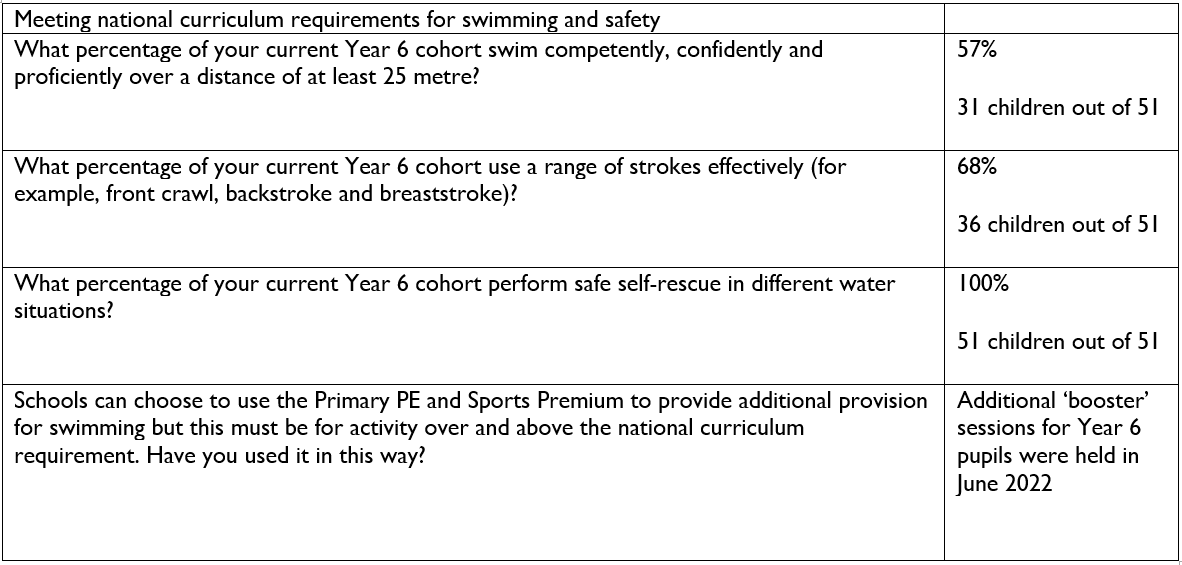 The current Year 6 cohort will attend additional swimming booster sessions, we have chosen to use the Primary PE and Sport Premium to provide additional provision for swimming (above the current national curriculum requirements) to increase the percentage of children meeting age related expectations in each area of the national curriculum.